A Movie Script Middle
The other night, we went to dinner with two other couples, friends of mine from medical school. We sat tucked in the back of a brick-oven pizza restaurant, ordering almost everything from the menu and pushing things back and forth over the table. "Here," you'd shout, "dip
this
in
that!"
Someone else, in reply, "Who's still hungry? What else should we order?" And another, "This round's on me!"
We were cute, good-looking in chunky sweaters, button up shirts, scarves. We laughed, loud, for hours. There was almost always someone else's hand in front of you -- handing you something, taking something away. The waiter always had a perfect response: "What's speck?" "What was the name of Dan Ackroyd's character in The Ghostbusters?" "Show us your best gang sign!"
At the end of the night, we leaned into each other and hugged, even the newest of friends. And then, echoes of laughter and extended invitations trailing behind us, we turned and walked out into the night, emboldened by the connection. The day felt magical.
***
Even at my most bitter (and I promise, it gets bitter up in here), I can't help but love life. I can't help but love my life. It suckerpunches me all the time, right in the gut. I wake up, and I look around -- this is mine. A messy house, a something else boyfriend with stylishly messy facial hair who always smells good, a messy desk, a messy life. It's so messy -- full of late nights in the lab, too few showers, a lot of good runs and some not-so-good runs. It's messy with morning sex and Sunday brunches and clothes that are tattering at the sames, cluttered with brilliant friendships and hope. It's absolutely cluttered with hope.
I don't know if there's ever been a year so littered with possibilities. I say that, and it feels strange. "What possibilities, douchebag?" my cynical self says. "You're locked in, here -- MD/PhD almost-half-through, the same boyfriend since 2002, the same pills since '07. Nothing is new here, not really."
Which is true.
I've shrugged more this year, said more maybes. "Maybe 2 and a half, if I'm lucky," I said. "2015, I hope." "April 30th, I'm thinking." I've stopped being sure of anything.
This year, I looked around and started to feel like I was growing up. A consensus happened, it seemed, between those of us who turned 25. Instead of a quarter-life crisis, it was like we just stood up and took stock. "So this is what it feels like," we said to each other. "The end of a beginning."
Was I the only one who thought that being young was original to me? Sat around and thought, "I am young. This is what I am. This is who I am. You? Surely you were never young. It was only me. I invented it." Sitting around this year, I had the first intimations of what it must actually feel like to get older. Not to simply age, but to have your whole identity shift. "Once I was young, but now I am not-so-much. Here are the traits that I still have -- here are the things that are me."
I think there are the possibilities. The idea that someday I will be not-this. I don't know what parts of me will survive into the not-this-ness, but I am curious to find out.
***
Of course, we're not completely through growing up in these parts, only just started. This year, I wondered (with all of the natural curiosity of a scientist) if I would have grown up enough to not
vomit on New Year's Eve
. Seriously, it was a mystery to me. Up until the very moment that I jumped out of bed, ran to the guest bathroom, bent over and
blllarrrragghghghggghhh,
I had no idea.
The first surprise of 2011: Not that grown-up yet, asshole! Better luck next year!
***
So,
2011 started like 2010
(this year's poison: six glasses of beer, one of champagne): new year, empty stomach. Not to go all thinspirational on you (duh...), but there's something kind of pure in my head about starting the year with a clean gastronomical slate. I slept like death through the morning, then filled the void with Indian buffet. It was deeply satisfying. I had no regrets. About that.
I echo myself from one year ago, in that I still think most of your adult years are average on the good/bad scale. This year had a lion's share of frustration, guilt, even the occasional regret. I hate that I sometimes had to miss things for the lab -- this is probably the first year ever that I had a good glimpse at the future challenges I will have with striking work/home balance. This is the first year I ever seriously missed sleep for reasons related to work (and not just because I was dicking around during the regular hours of the day when I was supposed to be working). For Pete's sake, I'm writing this entry from the goddamn lab!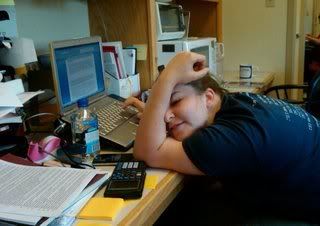 But this is also a year that I saw clearly that I am not struggling in futility. I stand around the lab and I think about all of the things that I have accomplished here. I think about the people who need me here -- I've never felt that about a work environment. It feels good. And, a blessedly unexpected side effect of this place -- I have grown a tougher skin, which I didn't think was possible. I've cried a lot less about work this year. I've learned how to roll with failure, how to look someone in the face and tell them I've fucked something up. This is one of the best things that came out of 2010.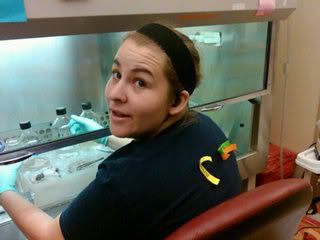 This year was all about laughter -- gut-busting, accidentally-peeing-a-little-in-your-pants-inducing. Laughter at home, at work. Laughter everywhere.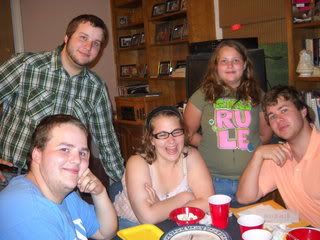 This year was all about love -- about getting to know people and loving them. Inspiring them to send pointless text messages. Getting them to do stupid stuff with me. Eating, drinking, singing, dancing. Living together. That was what this year was about too. If my goal last year was to live fiercely and laugh fiercely, then strike a big red mark through it. Accomplished.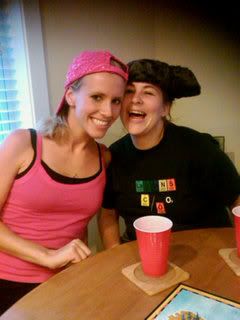 ***




This year, there are more specific goals. Since last year's health goals went well, I've added to them this year:




(+) Run my first half-marathon

(+) Run my first marathon

(+) Fit into a pair of cargo pants and a formal dress I haven't fit into since I was a freshman




Since some of last year's work related goals didn't go at all, I'll repeat them this year:




(+) Get to work earlier

(+) Read more scientific literature.




And some others:




(+) Keep up the good fight -- this year, the mental health has slipped once or twice. My meds have been upped, but it's always the right time to remember to hold on, because I have so many things to hold on to.

(+) Cook at home more. God, my wallet and my marathon running depend on it.

(+) To find Joey's memory card that has all of his pictures from Europe on it. Fast.

(+) To write more. Writing is something I love to do, and it fell by the wayside this year in the face of an extremely increased workload and my newfound love for physically punishing myself in the gym or on running trails. Still, I'd love to continue to write more fiction (a few months ago, I got myself a few

FieldNotes

, and this had been helpful), and I'd like to write here at least once a week. Here's hoping.

(+) Read the ten books I got for Christmas (and hopefully more!) before reaching next Christmas.

(+) To make more days magical. Even if it's just holding-hands-for-two-minutes-before-we-sleep magical. Especially if it's just holding-hands-for-two-minutes-before-we-sleep magical.

<